Fred V. Knecht Memorial Fund
Established 2015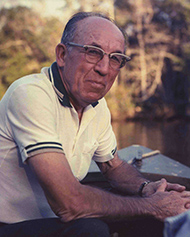 Fred Knecht, a longtime resident of Schuylkill Haven, passed away on July 9, 2010. He was publisher emeritus of The Call and The Press & Herald weekly newspapers. Born Nov. 6, 1915 in Calhoun, Oklahoma, he was a son of the late William K. and Agnes Norbeth Knecht. His wife of 68 years, the former Eleanor Hand, Muir, preceded him in death in 2008.
Fred was the third generation publisher of his family in Schuylkill County. His grandfather, William F. Knecht, originated the West Schuylkill Herald, Tower City, in 1898. That paper was acquired by his father, William K. Knecht, in 1922, and then by Fred in 1967.
For the past 118 years, the Knecht family's publications have served the communities of southern and western Schuylkill County through the following predecessor newspapers: The Valley Echo, Tower City; The Tremont News and The West Schuylkill Press, Tremont; The Pinegrove Herald, Pine Grove; Orwigsburg News, Orwigsburg; and The News-Observer, Tamaqua. The merger of The Call and The Press & Herald shortly after Fred's death in 2010 formed South Schuylkill News.
During his lifetime he worked with Attorney Harry Rubright to write the bequest through his Last Will & Testament. The estate settlement of $359,151.58 is now pooled for investment purposes with 158 endowment funds managed by the Community Foundation. These funds support different charitable giving goals as determined by the wishes of each donor.
The Fred V. Knecht Memorial Fund will continue Fred's service to southern and western Schuylkill County communities. The annual earnings from the fund will be granted by his children to financially support qualified organizations, projects, or programs principally serving one or more of the geographic areas encompassed by the Blue Mountain School District, Schuylkill Haven Area School District, Pine Grove Area School District and Williams Valley School District.