Circles of Giving
Schuylkill Area Community Foundation celebrates 50 years of Charitable Giving in Schuylkill County!
We are truly grateful for the opportunity to support the charitable work of our wonderful donors who serve so many people throughout Schuylkill County. Since 1967, it is you - our fund holders, donors, professional advisors, and community partners - who are the greatest measure of our success! In the last fifty years, the endowment funds awarded $7,563,987 in grants and scholarships to nonprofit organizations and students.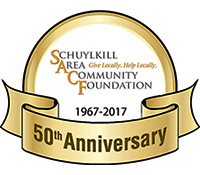 The Circles of Giving program was launched to celebrate our 50th Anniversary. This program raised $51,120 in donations to support the special grant cycle for nonprofit organizations. Please click here to view the list of donors for the program. These grants will provide financial assistance for projects and programs that will enhance the quality of life in Schuylkill County.
Thank you for supporting the mission of Schuylkill Area Community Foundation and we encourage you to be a promote Give Locally, Help Locally! Donations are accepted for any fund and in any amount throughout the year. Please contact the Foundation office at (570) 624-7223 to further discuss your charitable giving goals.