David R. Schmaldienst Music Award Fund
Established 2014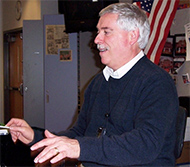 David R. Schmaldienst, a native of Allentown, Pa, is the former Director of Bands at Tri-Valley Junior/Senior High School. He retired from teaching Instrumental Music in the Elementary School in 2011 in the Tri-Valley School District. He also taught at Tamaqua Area Junior/Senior High School, Deptford Township Junior/Senior High School, and Lower Cape May Regional High School of New Jersey.
Mr. Schmaldienst organized and directs the Tri-Valley Community Band. He is the former conductor of the Pottsville Third Brigade Band and assists with conducting the Cressona Band and the Anthracite Youth Orchestra. He also coached Bassoon Quartets and Woodwind Ensembles at Susquehanna University's summer music programs.
He is a member of the National Association for Music Education and is a past member and officer of the New Jersey Music Educators' Association. He is the Past President of District 10 of the Pennsylvania Music Educators' Association (PMEA) from 1993-1995 and again from 2001-2003 and has adjudicated numerous marching, jazz, and concert band festivals. He sponsored the Tri-M Music Honor Society at Tri-Valley High School. He also conducted several Honors Band Festivals in Eastern Pennsylvania. He was the Co- Chairman of the Schuylkill County and PMEA District 10 Auditions Committee. Mr. Schmaldienst is the Principal Clarinetist with the Anthracite Philharmonic and the Cressona Band. He performs with the Pottsville Third Brigade Band, Schuylkill Big Band, After Hours Swing Band, Pine Grove Community Band, and the Tremont Community Band. He has performed as the second bassoonist with the Schuylkill Symphony Orchestra.
He received his Bachelor's Degree in Music Education from West Chester State College and completed post graduate work at West Chester and Wilkes College. He and his wife Judy, who is a retired music educator from the Pine Grove Area School District and is a private Flutist instructor, are the parents of two sons and a daughter and grandparents to eight grandchildren.
This fund provides an award to a graduating senior of Tri-Valley High School pursuing post-secondary education and majoring in Music or a related field. The student must be accepted into a four-year undergraduate program on a full-time basis. Students will be considered based on musicianship, musical achievements, leadership, academic achievement, extra-curricular involvement, as well as financial need.