John and Anna Breitigan Memorial Award Fund
Established 2013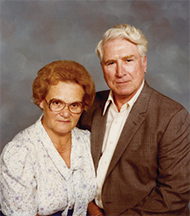 John and Anna met in 1942 in St. Clair, PA. John was a native of North Braddock, PA and was stationed at Indiantown Gap. Anna was living in St. Clair. She arrived in the United States from Czechoslovakia when she was six years old. They corresponded during World War II and married in 1945 at Holy Trinity Church in St. Clair. During their 63 years of marriage the resided in Pottsville and raised a family of seven children.
Jennie Breitigan established this fund as a lasting tribute to her beloved parents. "They remain two of the most important people in my life and the best examples of the kind of person I want to be. I am so proud to be their daughter," Jennie explained.
This fund provides awards to students who are Schuylkill County residents enrolled at The Joseph F. McCloskey School of Nursing and who meet the criteria established by the donor.