Lasting Legacy for Pottsville
Established 2007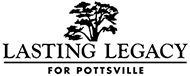 Pottsville's Lasting Legacy board of directors established the fund to support the goals of the Bicentennial Committee. The three major projects include: Yuengling Bicentennial Park, General Joulwan Park and Union Square Station, as well as projects and special events that make Pottsville a great place to live, work and play.
Lasting Legacy was created as a 501(c)(3) organization to improve the quality of life in the City of Pottsville. The Bicentennial Committee wanted the 200th birthday celebration of Pottsville to provide long-term benefits to the community and they did just that! The committee raised more than $1.4 million for the bicentennial events and projects. "This partnership with the Community Foundation will allow the success of our recent Bicentennial to continue", said Joseph Schlitzer, President for Lasting Legacy for the City of Pottsville.
Distributions from this fund are made to Lasting Legacy for Pottsville for such uses and purposes as determined by the organization.