Ryan Paul Stankavage Memorial Scholarship Fund
Established 2012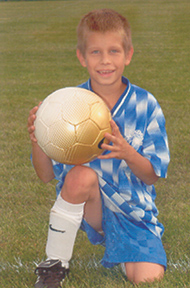 This fund was established by Walter Stankavage in memory of his son. Ryan enjoyed playing soccer! This fund will award annual scholarships to graduating Shenandoah Valley High School seniors who maintained at least a 3.0 grade point average at the time of graduation, who are planning to further their education, and who meet the specific sports criteria established by the family.
Preference given to applicants in the following order:
Eligible applicants who participated in the sport of soccer for a minimum of two years through the Shenandoah Youth Soccer Association.
Eligible applicants who played soccer for Shenandoah Valley High School as a member of a team sanctioned by that high school and not as a member of another high school team sanctioned to accept Shenandoah Valley High School students as member of that school's soccer team.
Eligible applicants who played a minimum of two years of any high school sport at Shenandoah Valley High School.